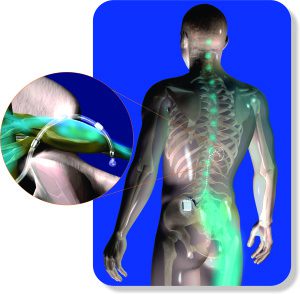 By Corey W. Hunter, MD
Most patients with CRPS can attest to the fact that many of the existing treatments for it are extremely limited.  Recently, Ketamine moved into the spotlight and gave physicians and patients, alike, a great deal of hope that we were getting closer to an answer.  Sadly, the data has been mediocre and insurance coverage remains a problem.  Fortunately, there has been a substantial breakthrough in the understanding of CRPS and how to better treat it.
The dorsal root ganglion (DRG) is a small bundle of neurons located just outside the spinal cord.  Previously, the DRG was believed to be a passive structure with no real involvement in creating or maintaining neuropathic pain.  New evidence, however, suggested the DRG is actually responsible for the hyperexcitability of the central nervous system that leads to many of the symptoms associated with CRPS (i.e. allodynia and central sensitization).  Combined with the fact that the DRG is so easily accessible, it made the perfect target for treatment.
Researchers found that by sending small electrical signals to the DRG, pain from things like CRPS could be substantially reduced: thus the birth of DRG Stimulation.  This is actually a variation of a treatment already available called spinal cord stimulation with one major difference: the lead(s) are placed directly over the DRG(s) directing the stimulation solely to the neurons thought to be creating and perpetuating the pain involved in CRPS.
It has been available in other parts of the world for some time now and many of the practitioners already using it have been raving about its unbelievable track record.  Dr. Liong Liem of the Netherlands has arguable more experience with DRG Stimulation than anyone else in the world.  He published some of the first data on it in 2013 where he showed an impressive 56% overall reduction in pain at one-year – this included several types of pain, CRPS being the second most common diagnosis in that particular publication.
Most recently, the results from the U.S. clinical trial called the ACCURATE Study were publicly reported.  The results broke all expectations – at one-year, 74.2% of patients reported greater than 50% pain relief with 1/3 of the total patients treated with DRG Stimulation reporting a staggering 80% or more reduction in pain.  The most common diagnosis in this study was CRPS.
The Food & Drug Administration (FDA) just granted approval to DRG Stimulation for use within the U.S. as of February 2016 for the treatment of CRPS.  Currently, the only device capable of DRG Stimulation is called the Axium™ which is available exclusively through St. Jude Medical™. There are a handful of centers across the nation that will be performing this cutting-edge treatment starting April 2016.
Such a treatment could change everything we know about CRPS and how to manage it.  Hopefully, this will be the large step forward so many sufferers have been waiting a lifetime for.
This article was found on the RSDSA Supporting the CRPS Community. Link https://rsds.org/drg-crps-treatment/