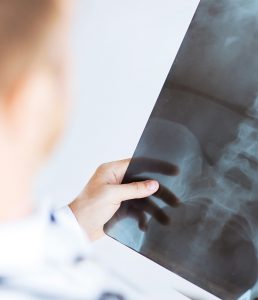 UCCU is proud to be the business banking partner for Spinal Interventions, a unique medical treatment center in Provo that provides advanced solutions for chronic pain.
Dr. Daniel Faber, founder of Spinal Interventions, first became a member of UCCU in 1977 while attending BYU (when the credit union was still known as Universal Campus Credit Union).
Today, over 35 years later, the financial relationship is still going strong. We sat down with the doctors at Spinal Interventions to discuss their approach to treating chronic pain. "There are many effective modalities available for chronic pain of all types," said Dr. Daniel Faber, founder of Spinal Interventions.
"We focus on non-surgical and non-narcotic solutions."
While prescription narcotics often provide short-term relief from physical pain, addiction and dependence can be an unintended long-term consequence. The doctors and nurses at Spinal Interventions work closely with patients to develop chronic pain solutions that are both effective and drug-free. Modalities include physical therapy, cognitive therapy, and multiple types of injection techniques.
Spinal Interventions also offers drug detoxification services. "Our goal is to truly understand what our patients are suffering from," explained Dr. Faber, "and provide treatments that can really help them manage and overcome their pain."UCCU is thankful to have these dedicated professionals working to improve the quality of life for those who suffer in our community.
To learn more, visit spinalinterventions.com
This article was found in UCCU Smart Decisions Magazine on December 4, 2014. Find the link at http://blog.uccu.com/community/?p=4310